Latest Version 3.10.2 » Updated to Joomla 4.1.0

BIG SAVING: Are you a Developer? You love this template and other our Joomla items on ThemeForest, as well as products our official site (SmartAddons.Com)?

NOTE: Some Exclusive Joomla Templates on ThemeForest will be not included! If you have question, please contact us!
DESCRIPTION
SJ Sport Store – A responsive multipurpose template for Joomla!, integrating JoomShopping as e-commerce platform.
Get creative ideas from the strength, dynamic and freshness of sports, SJ Sport store is built with flat design, harmonious color combinations, clear layout, so it's really suitable for sports store such as sporty equipment, sports accessories, sportswear… Beside that, this is a multi-purpose theme, you also can easy to customize for any product range.
Along with a modern design, this theme is energized with eCommerce functions of JoomShopping and a wide range of powerful premium extensions: Slideshow with smooth transition effects, super Mega Menu with multiple columns styles, SJ Responsive Listing with unlimited loader for showing products…
Based on YT Framework – a powerful responsive Joomla framework, this template is a totally responsive design as well as dozens of configuration options included: colors scheme, menus, typography, google font… can be tweaked quickly to suit any need.
Check out more interesting features of it, you'll love it!
UNLIMITED COLORS 5 COLOR PRESET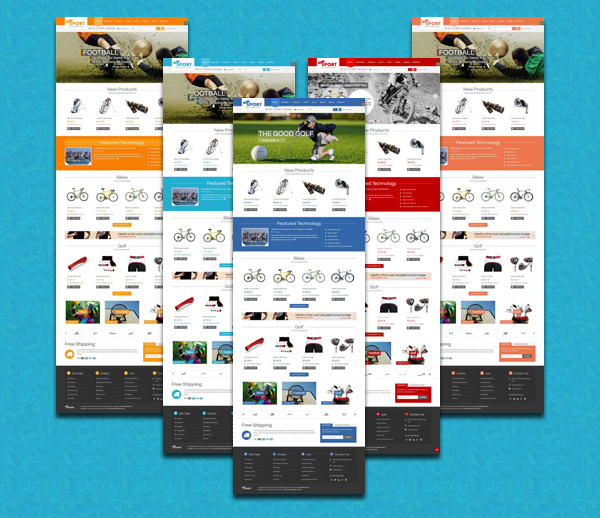 SJ Sport Store has a strong interface, harmonious color scheme as well as clear layout. This is designed with 5 Preset Color Styles: (Tomato (default), Blue, Cyan, Orange and Boocdo) you can also totally change your color for all params: body, header, spotlight, footer… by using cPanel.
BUILT-IN YT FRAMEWORK v2
With our flexible responsive Joomla framework, this template is a totally responsive design as well as many configuration options included: colors scheme, menus, typography, google font… All these features can be tweaked quickly to meet modern standards of web technologies. Specially, this is compatible with Auto Updater component of Joomla! to update framework any time to latest version from our repository.

BUILT WITH BOOTSTRAP, HTML5 and CSS3
Developed by latest tools such as Bootstrap CSS3, HTML5, LESS. It makes this responsive template is extremely flexible to customize. With Bootstrap, this template offers mobile users with user friendly and fantastic layouts that resize to fit any screen resolutions.

FULLY SUPPORT JOOMSHOPPING
Joomshopping is the most easy to use OnlineShop for Joomla. More than 200.000 new Users in 3 years! The sourcecode is written in high quality for easy adding features and for stability and high security. It can be used for selling different products.
With Joomshopping, your layout listing page can be displayed so clearly with 1, 2, 3, 4 columns.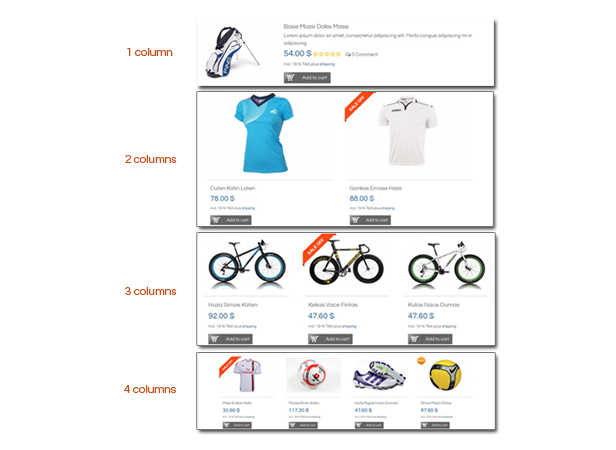 RESPONSIVE LAYOUT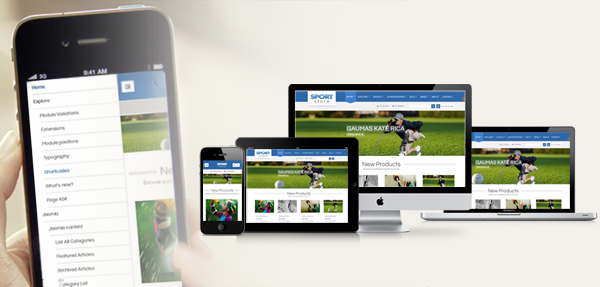 This template is fully responsive design, your site will look great whenever it is being viewed in Desktop, Mobile or Tablet. Moreover, Menu Mobile style was inspired by Facebook Menu – the largest social network today, bringing a subtle and familiar to users.
MENU TYPES
SJ Sport Store supports 3 types of menu: Super Mega Menu, Css Menu or Moo Menu.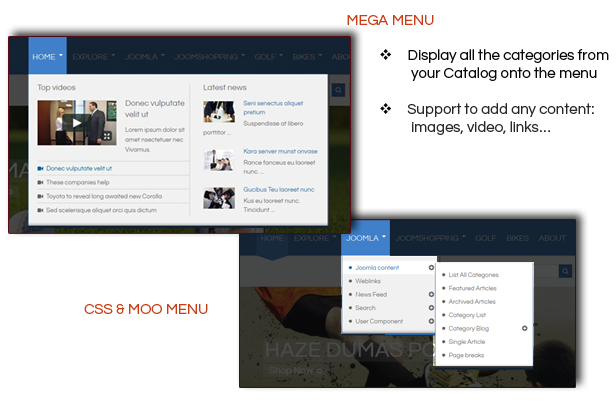 Display more products on homepage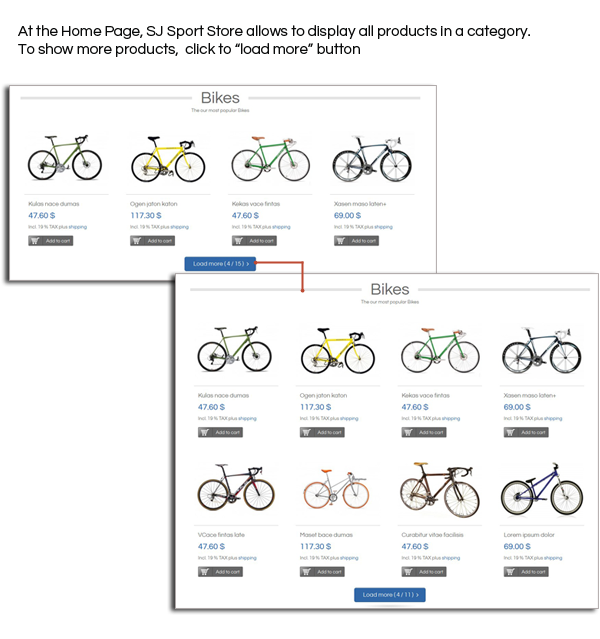 DETAIL RPODUCT PAGE WITH FULL UTILITIES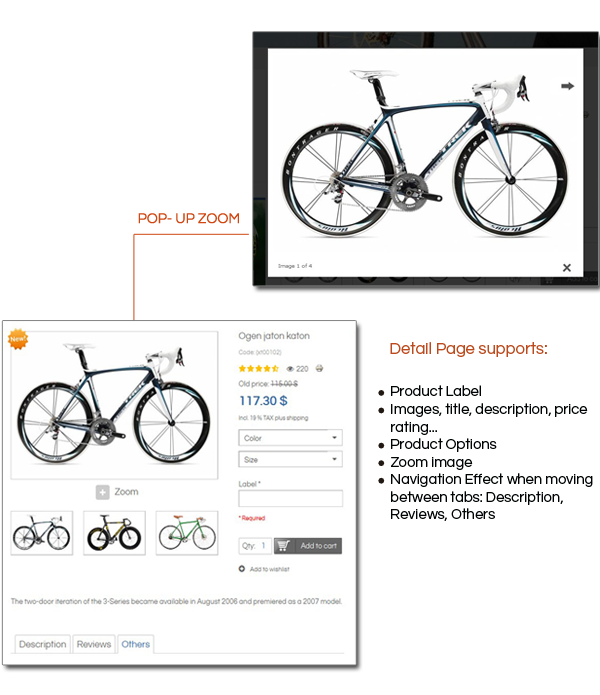 With Pop-up Zoom, customer can quickly view a product image when clicking on image product without leaving the current page.
CONTACT PAGE INTEGRATED GOOGLE MAP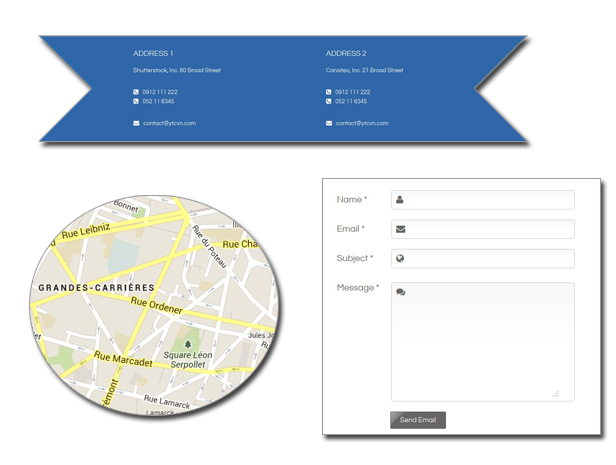 Contact Us is integrated utility functions such as Address, Google Map, Description, Send Mail:
POWERFUL ADMIN PANEL
With intuitive and understandable interface, users can easy to customize SJ Sport Store Template as they want.
MAIN FEATURES:
Compatible with Joomla 3.x , 4.x
Compatible with IE810+, Firefox, Safari, Opera and Chrome
Support RTL / LTR language
Allow to set site title, logo and slogan
Support responsive layout
Support Front-end Cpanel for changing Theme, Layout, Menu and Reset instantly
Support 5 color presets (Blue, Tomato, Cyan, Orange, and Boocdo)
Support various Font Family as well as Google Fonts
Support many styles for RESPONSIVE Menu: CSS, Moo and Mega Menu
Allow to set JavaScript for Menus, set start/end level and Keep on top
Allow to show OR hide Main Content, with options for showing image types
Typography and various module variations
Use Lazy Load for handling large images
HTML5 Validation
Support SHORTCODES
Support LESSCSS
100% table-less design, based on CSS3
Optimize CSS/JS/HTML/Merge File
WHAT ARE INCLUDED?
SJ Sport Store Template Package
Use this package to install on your current site
QuickStart Installation Package
This package includes template, modules, plugins and sample data. By using this package, you will have a complete site look like demo site.
Extension Packages
Modules and plugins used for the demo.
PSD Sources
All PSD design templates
Full Documentation
Detailed documentation to configure template
CREDITS:
CHANGELOG
VERSION 4.1.0 : Released on 02 Mar, 2022
- Updated to Joomla 4.1.0
VERSION 3.10 : Released on 27 September, 2021
- Updated to Joomla 3.10.2
VERSION 3.9.28 : Released on 06 August, 2021
- Updated to Joomla 3.9.28
VERSION 3.9.26 : Released on 29 April, 2021
- Updated to Joomla 3.9.26
VERSION 3.9.25 : Released on 24 March, 2021
- Updated to Joomla 3.9.25
VERSION 3.9.24 : Released on 26 January, 2021
- Updated to Joomla 3.9.24
VERSION 3.9.20 : Released on 10 August, 2020
- Updated to Joomla 3.9.20
VERSION 3.9.19 : Released on 11 June, 2020
- Updated to Joomla 3.9.19
VERSION 3.9.16 : Released on 06 April, 2020
- Updated to Joomla 3.9.16
- Compatible with PHP 7.4
VERSION 3.9.0: Released on 16 Dec, 2018
- Update template for Joomla 3.9
VERSION 2.1.1 Released on 10 June, 2017
- Updated to Joomla 3.7.2

VERSION 2.1.0 - Released on 15 April, 2016
- Upgraded to Joomla 3.5.x

VERSION 2.0.3 - Released on 28 June, 2015
- Upgraded to Joomla 3.4.1
# Fixed bug: prettyPhoto XSS
VERSION 2.0.2 - Released on 25-June-2014
- Initial release on the market